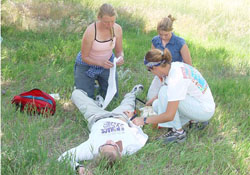 WFR Course / WEMT module. 6-weeks. Starts Mar 27, 2017.
Mon and Wed nights 6pm - 10pm.
Dates: Mon Mar 27 through Wed May 3, 2015.
Location: Golden, CO
Bonus valuable First Aid Kit FREE if you pay 30 days in advance for Full Class Registration (not deposit).
Price includes $85 Text and Materials Fee
Enrollment deposit holds your place in the class, balance due first day of class.
Detailed WFR/WEMT course Description [ Click HERE ]
**********************************
WFR/WEMT Re-certification:
If your WFR certification is out of date by 5 years or less, WMO can recertify you.
For details on WFR Re-cert, including Pre-Requisites, Books, etc.
See the WFR-Recert details page