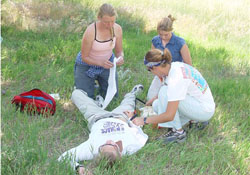 WFR Course / WEMT module 6-weeks. Starts Jan 29, 2018.
Mon and Wed nights 6pm - 10pm.
Dates: Mon Jan 29 through Wed Mar 7, 2018.
Location: Boulder, CO (Louisville)
Bonus First Aid Kit FREE (retail value $100) if you pay for Full Class Registration (not deposit) at least 30 days prior to class.
Price includes $85 Text and Materials Fee
Enrollment deposit holds your place in the class, balance due first day of class.
Detailed course Description [ Click HERE ]
**********************************
WFR/WEMT Re-certification:
If your WFR certification is out of date by 5 years or less, WMO can re-certify you.
For details on WFR Re-cert, including Pre-Requisites, Books, etc.
See the WFR-Recert details page
If your WFR certification is out of date by 5 years or less, WMO can recertify you.
You will participate in a full WFR class. You are required to attend at least 24 hours of class time. You must successfully complete 4 scenarios if in 2 year expiration, 5 if in 3 yr, 7 if in 5 years and pass a written exam.
Prerequisites:
Proof of WFR certification (WFR card) showing date.
Take a picture of your card with your Smartphone and email the photo proof to carl@wildernessmedicine.com
Books:
You may need to buy WFR Book Set [ Click HERE for book set ]
Pro CPR:
If you need to re-certify your Professional 2-person CPR (typically good for 2 years), you can do that as part of this course.
You will need to be present on our CPR training and test session.
If you cannot be present on the dates to re-certify in CPR, you will need to purchase our separate CPR course.