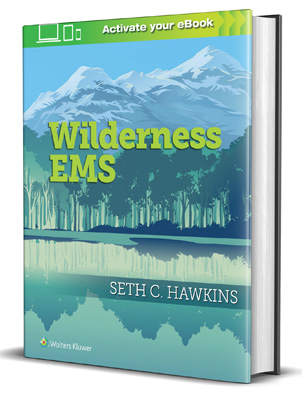 Wilderness EMS Book
This is the first Wilderness EMS textbook ever published [580pgs] released Nov 2017.
WMO's director Carl Weil is one of 2 Master Fellow degree holders of Wilderness Medicine who are text authors.
Carl has a large number of the photos seen in the book.
Carl wrote on the latest of Wilderness Medicine and survival back packable gear.
only a few Signed copies left at a  16% WMO savings---- price  $99 THIS IS SHIPPED
email or call for availability and WMO price as it will not properly go into the cart
Book Store retail price is $119.99.
This book covers the complexities of Wilderness care from the view of several co-authors who write
about subjects they have experience with.
Coauthors are well known in the field of wilderness medicine.
This book is further unique in that 19 of the coauthors hold Fellow of Wilderness Medicine degrees and 2 hold Master degrees. Carl Holds both