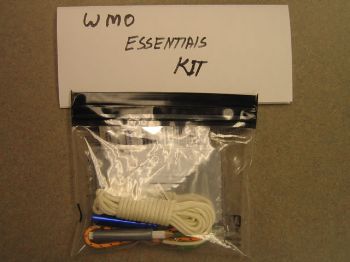 Survival / Essentials Kit w/Belt Case
The kit includes all of the following:
Led light on cord by Princeton Tec
Whistle
Signal Mirror - high grade USAF sighting version
Small KA Bar Locking Pocket Knife
Pencil With Duct Tape
12 Feet of 550 Cord
3x5 Card
Magnesium, Flint, and Steel Fire Starter
2 Large Safety Pins
Compass - liguid filled, 6 hr luminescent
200FT Waterproof Bag
4 - MP1 water purification tablets
Belt case - Colorado made
Note:
The Basic gives you 5 of the accepted 10 outdoor emergency essentials Plus 7 more of the "non essential essentials".  By adding the first 3 options for 38$ you have 7 of the 10 essentials and 7 of the nonessentials in a durable handy pouch.  Just add extra food extra water and spare clothing to your pack and you are set for a well prepared outdoors trip.  You are now able to better handle what problems you may encounter.
We suggest you take a survival class as well as a wilderness medicine class so you can use these tools to their maximum benefit.