If you have forgotten your password or your username (login name) for one of these:
- Wilderness Medicine Distance Learning (DL) site: learn.wildernessmedicine.com
OR
- Wilderness Medicine Outfitters main site (this): wildernessmedicine.com
It is easy for the website to send you a link to reset your password.
First of all, if you believe you do have a user account, it is easy to verify. If you don't have an account, then its free and easy to create a new account.  If, however, you try to create an account and you already have an account with the same email address, you will not be able to create a duplicate account, you will just have to get your original login/password back in order.
---
1. If you are on the Distance Learning (DL) site home page, click the "Lost Password?" link in upper right corner. It's right under the "Login" button: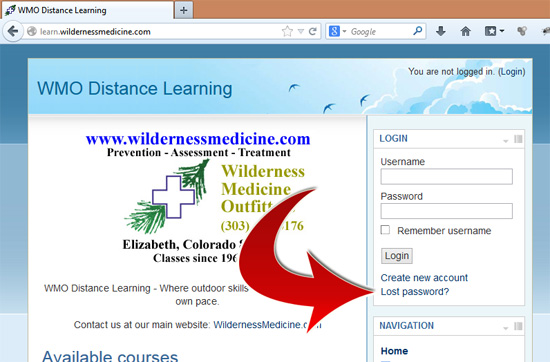 2. If you are on the Distance Learning (DL) site login page, click the "Forgotten your username or password?" link: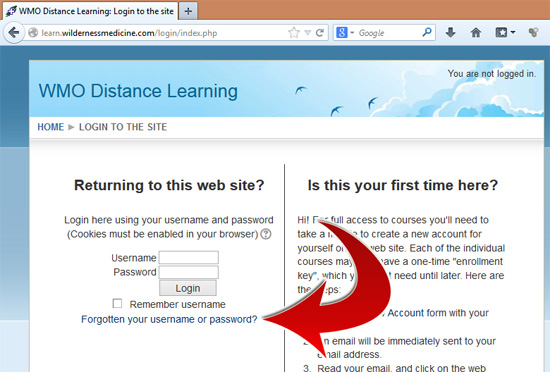 3. Either way, you end up on the password reset page: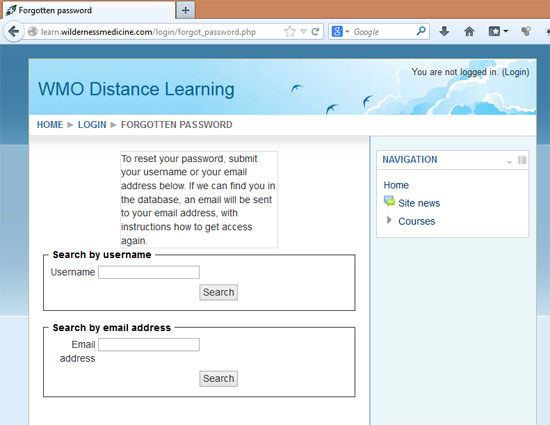 4. From this page, you can reset your password EVEN IF YOU DO NOT KNOW YOUR USERNAME. You can attempt by using either your username (if you know it) or your email address.  The system will send you an email to the address in the database.
5. If you do not receive an email from WildernessMedicine.com in less than 10 minutes, then you didn't use a recognized email address or username. The on-screen prompts WILL NOT confirm this mistake for you. If you don't receive the email, that's how you know. Try again or create a new account.
6. Click the link in the received email. By clicking the link, the system will send you another email with a new password. Your password will be changed for you. If you do not click the link, your password is not changed.
7. Check your email again and get your username and new password. Login using these new credentials.
8. Once logged, change your password to something you prefer using by clicking on your name in the upper right corner. Then using the "Administration Menu", click the "Change Password" option.
 
---
---
WildernessMedicine.com (main site) website password reset:
Short version:
1. click the "Login" option at the bottom
2. Click the "Request new password" tab
3. An email will be sent with a link for one time login. You have 24 hours to click the link once and change your password. If you allow the 24hrs to expire, just repeat the process.
more details coming soon...