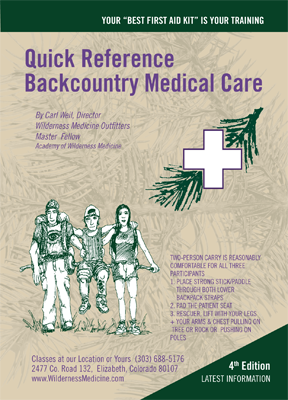 Backcountry Medical Care - Quick Reference 4th Edition
by Carl Weil / Wilderness Medicine Outfitters
National Geographic listed "eight tools to save your hide abroad" and said in the May adventure issue:
Get your facts straight with the new wilderness first aid reference book from Wilderness Medicine Outfitters. The book is good for wilderness first aiders, wilderness first responders, physicians or those with little training.
-12 reasons carry this book in your pack-
1. Bright white text stock. Easier to read especially in low light emergencies
2. Large type. Many are in 8 to 10 point. Carl chose 12 point for easier reading under stress.
3. Water resistive, tear resistive synthetic paper. A more expensive environmentally friendly synthetic to last longer. Most others are printed on much cheaper but not usable if wet "news print paper". Ours is DURABLE
4. Latest information in this updated edition. The newest in epinephrine delivery, updated burn section, updated CPR information, the latest in altitude.
5. 32 practical outdoor usable drawings. These allow the reader more understanding than other books with far fewer.
6. Simplified language. To help guide and remind the trained as well novice first aiders.
7. Improved emergency page headings. Designed to help you deal directly and effectively with field medical emergencies.
8. Thicker coated synthetic cover for durability.
9. Reader suggested topic development and clarification. Reorganized and rewritten to assist in emergency quick care based on user input.
10. A field use, lightweight, tough, find and fix it book. This does not have the unnecessary for field care extensive study and reference sections for reading at home like most others.
11. Strong, well recognized, cover recommendations by Doctor William Forgey (Wilderness Medicine Pioneer), Jeff Lowe (highly experienced mountaineer), and National Geographic (in its may issue of Adventure)
12. Light, small and extremely durable.