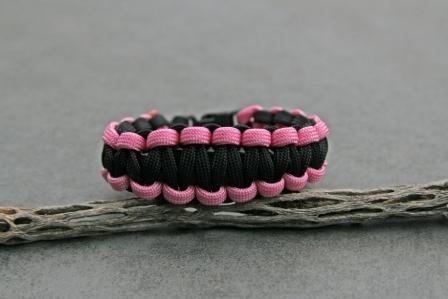 A full SURVIVAL KIT inside a paracord BRACELET.
The patented SURVIVAL CORE© concept is what makes the HERO STRAP a viable survival strap.  Not only do you get all the standard benefits from the common paracord bracelet, but now you can enjoy the peace of mind knowing you also have a full survival system you can rely on.  
Who Needs a HERO STRAP?
 
Every backcountry guide, first responder, hunter, camper, hiker, skier, recreational pilot, mountain biker, boy scout, Soldier, Sailor, Marine & Airmen
Everything you need to survive mother nature!
Patented design ensures YOU have the ability to:
    Start a fire (Signal or Survival)
    Build a Shelter
    Tie together tree-branches to make a Lean-to or A-Frame Shelter
    Fish
    Snare/Trap Small Game
    Bandage Wounds
    Make a Spear
    Clean Small Game/Fish
SURVIVAL CORE©  Inventory:
    Ferro Rod (Fire-Steel)
    High Quality Razor Knife Blade
    Fish Hook
    10ft~30lb Braided Fishing Line
    2ft Electrical Tape (bandage)
    4" of Wax Dipped Jute Twine (1 spark to ignite & a 1" piece will burn for @ 1 minute)
Colors available:
Military two-tone: will be two of various colors: black, cammo, OD, tan
Military solid: will be one of various colors: black, cammo, OD, tan
Black & Pink
Black & Yellow
Solid pink
Solid Yellow
Sizes: Measure your wrist in inches.
Choose from a color / size option or call for custom colors and sizes ($30 for custom orders).