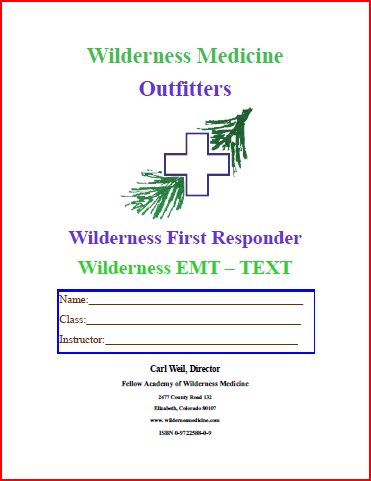 WMO WFR/WEMT Text - 2020 edition
Author: Carl Weil / Wilderness Medicine Outfitters
Master Fellow of Academy of Wilderness Medicine
158 pages
Written from over 40 years foundation of innovative improvisational medical and trauma care. Over a dozen contributors fill this aggressive but terse book designed to help those far from help in all aspects improvisational to remote care whether it is from a natural disaster or terrorist destruction. This 145 page book is designed to be used in conjunction with the companion smaller Back country Care book by the same author. These books contain the information used  for advanced care by Wilderness EMTs. The WMO distance learning 48 hr class uses these as well as the WMO WFR/WEMT 76 hr course. One should not expect to learn all of the necessary WEMT knowledge just by reading these books.