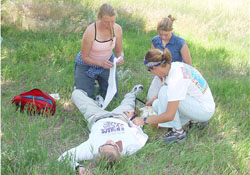 ONLINE 4 lessons of reading, 4 video to watch with 4 on line quizzes to take
PLUS 1 day many skills IN-PERSON: Take most of the course online at your pace.
Then, 1 day in-person to complete the training.
BONUS: If you sign up online in advance, receive a free bonus the day of class.
Dates: Various - call office-303-688-5176.
Class day is 8 hours,  bring lunch. Adult CPR & AED is taught at class end
CPR/AED option is included.
YOU MUST REQUEST STUDY GUIDE EMAILED ASAP and be prepared to pass test 1st time or $15 extra fee to retake exam.
This class exceeds entry level camp staff requirements, Boy Scout leaders and basic guiding needs in many situations. It covers a portion of the true guide courses, with less repetition. Some folk take this 24 hr Intermediate WFA as a preparatory for more advanced training.
If you can do 4 lessons at home and only want to invest one 8 hour day in person, WMO's Blended WFA 24 is the one for you!
It is more advanced than many other WFAs and taught by very experienced instructors vs a person reading to you with little field time.
Price includes $35 E-Text, $11 Field Guide, CPR fee and Materials Fees. Upon payment by PayPal, instructions on how to download the course textbook as PDF is sent by email.  Field guide is picked up in class or can be mailed early for fee - call to arrange.
 Location: 
WMO Conservation preserve, Elizabeth, CO
Camping over night can be arranged.